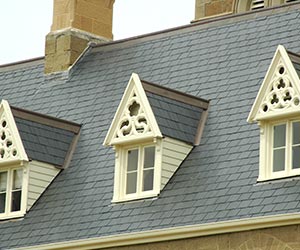 FA Mitchell supplies some of the finest European slate roof tiles and clay roof tiles to Sydney and Australian building projects.
What is slate roof tile?
Slate is a fine grained metamorphic rock that can be split into layers. The mineralogical composition of slate includes chlorite, quartz, mica, feldspar, and deceasing quantities of calcite, pyrites and carbonates.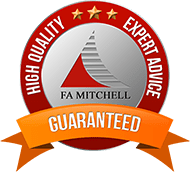 International Standards for Slate Roof Tiles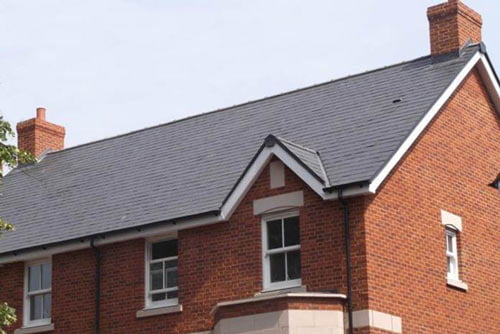 Rocks are slates but until they are made to pass through thorough tests and treatments, they do not become suitable for roofing applications. Slates can be unsuitable for various reasons. In terms of appearance, these defects may include, but are not limited to, non-squareness, delamination, flaking, transverse grains, cracks, and irregular thickness.
There can be defects beyond appearance, too. Percentage of pyrite, moisture retention, non-resistance to acid attack and high percentage of calcium carbonate are a few of these defects. Many countries use a standard for slates in order to ensure that they are of a certain quality and do not break down or turn defective over time. UK, France, Belgium, the USA and Germany all have their own set standards, with some more stringent than the others. For the record, the French Standard P32/302 Norm is considered to be the toughest standard.
For comparison, the British Standard BS 680 takes slate through a Water Absorption test, Acid test, Wet and Dry test and Grain test. With the exception of the Grain test, the French Standard uses all of these, and also requires slate to pass through a Resistance to Flexion test, Calcium Carbonate test, Density test, Frost test, Pyrite Inclusion test, Variation in Thickness test, and many others.
Our slate roof tiles range includes
HEBRA Roofing Slate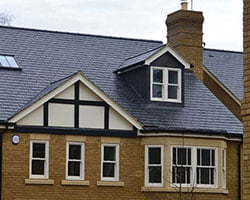 The Hebra slate is a dark grey slate with a smooth fine texture and longitudinal grain.
It is quarried in La Bana in the Leon region of Spain and has a proven history of non weathering and non fading.
The slate has a proud history of use throughout Europe meeting the premium quality of the CE standard EN12326-1:2014
Through our French trading partner we are able to procure this premier grade slate.
---
Clay Roof Tiles
Our terracotta roof tiles include Acme Clay Roof Tile and Hawkins Clay Tile.
Acme Clay Roof Tile
Acme clay tile is a machine made clay plain tile which comes with a sand faced as well as smooth finish. It is available in both single and double camber formats and this implies quicker discharge of surface water. The camber beautifully breaks up the visual aspect of the roofline, revealing a more aesthetic texture for each course. Produced with the help of modern techniques, this versatile product is laced with environmental credentials and relevant certifications.
Hawkins Clay Roof Tile
Hawkins clay tile is a machine made clay plain tile which comes with only the sand faced finish, unlike 'Acme' which offers both sand faced and smooth finish. It has straight edges and the tile provides single camber longitudinally. Valley, ridge and hip tiles are available for suiting a host of applications. The range is also available in weathered effect finish and is laced with environmental credentials and relevant certifications.
Your Sydney and NSW Slate Roof Tile Supplier
We supply slate roof tiles throughout Australia from our Sydney warehouse. Use the details below to get in touch with the slate roof tile experts at FA Mitchell to ensure you get the right product at the right price.
Get a Quote
For personalised advice and a quote for your project, please call (02) 9646 2777 or fill out the form below, and we will respond to you as soon as possible.