Slate roof tiles are, without question, the most sought-after roofing material among home owners today. It also happens to be a bit more expensive. Then again, paying for a gorgeous-looking and fire-resistant roof that could last for a lifetime or two is definitely worth it, don't you think?
However, it is a fact that many home owners could not afford slate roofing. So they turn to cheaper alternatives. The question is, could any of those alternatives compare to slate? Let's look at alternatives to slate roof tiles and see if they are worth it.
Fibre Cement Slate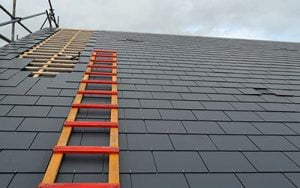 A much cheaper alternative to natural slate is fibre cement slate. But is it really that cheap in the long run compared to natural slate roof? The answer is a resounding NO.
A fibre cement slate roof is only expected to last 30 years on average. That means within that period, you will have to replace it. If you replace it with yet another fibre cement slate roof, wait another 30 years, and it will have to be replaced again.
Natural slate roof tiles, on the other hand, last up to 100 years. The really high-quality ones may even last 150. On top of that, natural slate roofing doesn't need much maintenance in three decades.
So which one would be more expensive now, in the long run?
Fibre cement slate being cheaper than natural slate tiles is a myth, nothing more. What's true, really, is that it looks like a cheap imitation of natural slate, which, on final analysis, it actually is.
Concrete Tiles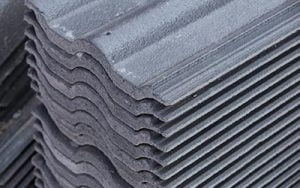 Like fibre cement slate, concrete tiles are cheaper alternatives to natural slate roof tiles. And just like fibre cement slate, their longevity is also poor compared to natural slate. Some say concrete tiles last 30 years, while others claim they can last up to a half-century. Whatever it is, concrete tiles still do not last as long as natural slate roofing. They have to be replaced at least once, and that one-time replacement is simply one replacement too many in light of the longevity of a natural slate roof.
There is also the issue of weight to contend with. Concrete tiles, which are 10-12 mm thick on average, are at least double the weight of natural slate per square metre. That means handling concrete tiles entails higher costs, which eventually ups the cost of construction as well.
Again, concrete tiles may be cheaper in the beginning, but will eventually become costlier than natural slate roof tiles in the long term.
Clay Tiles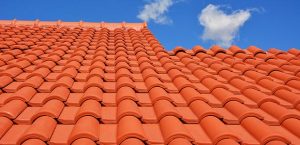 Compared to fibre cement slate and concrete tiles, clay tiles last a bit longer. They are marketed as having a longevity of 50-70 years. Its price is also quite similar with that of natural slate roof tile. Insects can't harm it. It's also fire-resistant, and won't rot.
One major drawback of clay tiles is that they are pretty heavy. They are, in fact, so heavy that homes that use them need its roof support bolstered. That means more expense on the part of the home owner.
Clay tiles are also less friendly to the environment compared to natural slate. Clay tiles are typically kiln-fired. When it undergoes this vitrification process, it pollutes the air as it releases more carbon dioxide. Clay tile production, in short, is far more damaging to the environment than most roof tile production processes.
The above may be common alternatives to natural slate roof tiles, but given all its qualities, there simply is no alternative to natural slate. Its life is far longer than the average human life expectancy, for one. It's doesn't rot or burn, for another. And natural slate roofing is simply a sight to behold. Most importantly, it is much less costly in the long run. So why would you go for alternatives when you can have the real thing?