Plywood is so ubiquitous today that you'd think it's a relatively modern material.
In fact, the history of plywood can be traced back to ancient times. It used to be a highly prized material even in antiquity.
But probably most amazing was its use during the second world war.
Plywood is a highly versatile wood product used in many types of furniture and house constructions. It is strong, flexible, non-warping, stronger than solid wood, and very affordable.
The benefits and uses of plywood are undeniable today – but it is even more so in the past.
Plywood Use In Ancient Egypt
The process of making plywood via cross-graining is depicted on a carving in Thebes. The Egyptians used plywood to make furniture, tomb cases, stools, tables, and so on. The Egyptians also practiced veneering, as evident in pictorials and murals unearthed.
Legend has it that Cleopatra presented Julius Caesar with a plywood veneered table richly decorated with inlays.
The 18th-19th Century
Plywood enjoyed elite status in the 18th century, too. With the development of more refined tools, it was used to make lavish pieces of furniture hand cut by elite sawyers. Back then, veneers were used to beautify an already well-built piece of furniture.
By the mid 19th century, things took a turn. Veneers were being made as a means to cover up a shoddy framework. That, plus the emergence of the mechanised cutting machines changed the status of plywood from expensive to cheap. It was so affordable that it was then being used in making common household items such as tables, chests, cabinets, and doors.
From that time on, plywood became synonymous with being fake, cheap, and affordable.
World War II
The 20th century welcomed the emergence of high-quality synthetic water-resistant glues and became one of the most important innovations in the history of plywood. Up until then, the only glues available for use were of plant and animal origin.
Plywood played a very important role in World War II. It was used in the construction of boats, barracks, weapons, and aeroplanes.
In fact, plywood was the main material used in building Geoffrey de Havilland's Mosquito aircraft. The Mosquito, also called the "wooden wonder," was THE aircraft of its time. It flew higher and faster than any other bomber at that point, which elevated the status of plywood. This might lead you to believe that plywood would reach heroic status. But aviation was so firmly rooted in progress that people viewed the use of plywood as backwards.
The shift from plywood to metal was arguably not due to the lack of strength or instability of plywood, but a matter of ideology. The fact that plywood is sturdy enough to be used in the construction of wartime bombers and to uphold the scaffolding of a building is a testament to its sheer strength and durability as a material.
Green Plywood
In the 1960s, post-war use of urea-formaldehyde glue took the production of plywood to the Far Eastern part of the world, increasing the production of low-quality plywood and increasing fears of unsustainability and deforestation.
It is important for any building project to ensure that your plywood has been sustainably sourced and complies with all environmental and health regulations. For example, recently the PEFC (Programme for the Endorsement of Forest Certification) of the Russian Forest Management Scheme expired and is no longer valid. This is a clear reminder of the importance of knowing where your wood products are sourced and the certifications that apply.
You may read about it here.
Overseas production has only brought down the reputation of plywood, but the truth is, high-quality plywood that's sourced responsibly does exist- with the right company.
Responsibly Sourced and High-Quality Plywood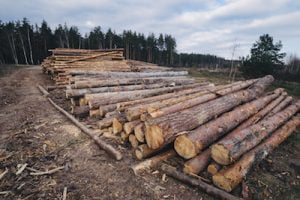 FA Mitchell knows the importance of responsible sourcing and production of high-quality plywood. Our plywood is sourced from accredited plantation forests in Australia and Engineered Wood Products Association of Australasia (EWPAA) audited mills and is produced to Australian Standard AS/NZS 2269, to Sydney and NSW.
You will be sure to find in each panel, the plywood mill's code, as well as the construction specification of the plywood, bond type, and stress rating.
If you are looking for responsibly and locally sourced high-quality plywood that's affordable, and if you have questions about sourcing the right plywood for your needs, feel free to contact us today and we will be happy to help you come to an informed decision.