FA Mitchell supplies an extensive range of medium density fibreboard to its clients in Sydney and across Australia.
We provide expert cutting services and will happily advise you what kind of MDF or other plywood is ideal for your commercial project. Whether you are fitting out a school, office building, warehouse or film set – we can help you.
Our MDF supplies are 100% sourced from local plantations, and are guaranteed renewable and certified with zero formaldehyde emission rating.
Find out more about our extensive MDF sheet range below.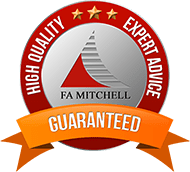 What is MDF?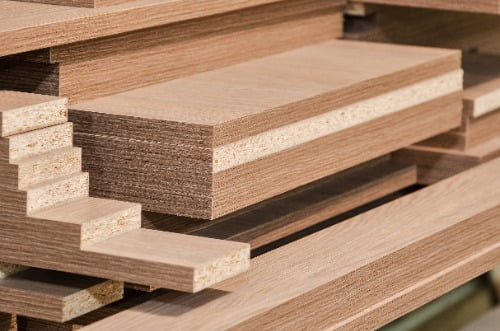 MDF or Medium Density Fibreboard is prepared by combining broken down hardwood and softwood residuals with the help of wax and resin adhesives. The process is undertaken under high temperature and pressure conditions. MDF gives a very fine finish and its surface is so smooth that it lends itself really well to painting.
General Features of MDF Sheets
Thinner MDF sheets are well suited for cabinet and interior furniture while the thick ones can be used for doors and partitions. The cut edges look really smooth because of the fineness of the surface and do not leave any void or splinters.
MDF sheets cannot stain, though they cannot hold screws too well because of the fine particles involved. They also absorb water like a sponge unless well-sealed. Seasoned manufacturers, however, know their way around these limitations.
Standard Grade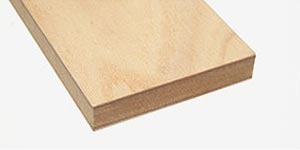 Standard Grade MDF is a flexible product which is suitable for all kinds of applications.
It has a uniform density, precision-control thickness and a sanding smoothness leading to a great surface finish.
MDF panels can be effectively applied to a host of residential and commercial fixtures, including, but not limited to, slotwalls, millworks, store fixtures and cabinetry.
MR (Moisture Resistant grade)
It can be suitably applied to interior applications where there is a tendency towards prolonged exposure to wetness and humidity. While The Moisture Resistant Grade of MDF is good to tackle 80% relative humidity, it can also counter higher relative humidity for short spans of time. It is a brilliant alternative for display fixtures, kitchen cabinetry, school caseworks and store fixtures.
Fire Retarded (FR) grade
MDF (FR) is suitable for areas where building regulations require the use of Fire Resistant Grade. The MDF offered in this variant can undergo full-fledged cutting and edging. It is largely used to offer structural support to interior panels, cabinets, furniture and wardrobe. These are certified fibreboards which undergo various toxic control tests.
Melamine Overlay
Melamine paper overlay adds an aesthetic dimension to medium density fibreboards. In evenly matched colour combinations and a well spread design range, melamine overlays can cater to all local colours and patterns. The melamine overlay goes through a thickness tolerance test, density tolerance test and bending strength test before being put up for sale. The overlays are easy to clean, offer a high degree of water resistance, are durable, resistant to abrasion and micro-bacterium, and do not deform under application of pressure.
Timber Veneer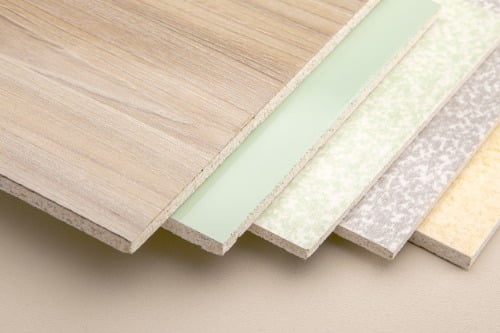 The timber veneer variant of MDF sheet is aptly suited for decorative interior veneers.
Applications of these aesthetic real wood finishes range from kitchen cabinetry, bedroom sets and even luxury hotels.
The structure, texture of grain, colours, shades, knots and fissures can vary and this is the reason why such a wide range of finished products are available to you.
MDF timber veneer can be used for any kind of substrate and can be cut to size for being edged with the veneer of real wood.
Black Through Colour
This variant of MDF uses the through dyeing technique (integral colouring) and thus cuts out the need to repaint. It is free of formaldehyde and can be used for display racks, panels, and furniture. The wood fibre produced is homogeneous in nature and has very low level of minerals in its composition. The transverse tensile strength and the screw-holding strength are of pretty high degrees, too.
Your MDF Supplier in Sydney and NSW
Available in Standard or Moisture Resistant (MR) formats, MDF comes in a wide range of thicknesses and sizes. Our sizes range from 1800×1200 to 3600×1800, and thicknesses from 3mm to 32 mm. At FA Mitchell, we supply MDF plywood overlaid with white melamine and also offer them in an assortment of decorative colours. We can also cut to size and edge bands with colours that match. Our in-house contractors can do it for you, and they help us effectively reduce waste in the process.
There are regulations which prevent plywood manufacturers from cutting to size at the client site because of the fine particle dust involved. We are, however, at a distinct advantage because we do it at our place. With MDF, you can create various designs, and we take pride in creating scrolled or scalloped designs with the help of a band saw, scroll saw or jigsaw.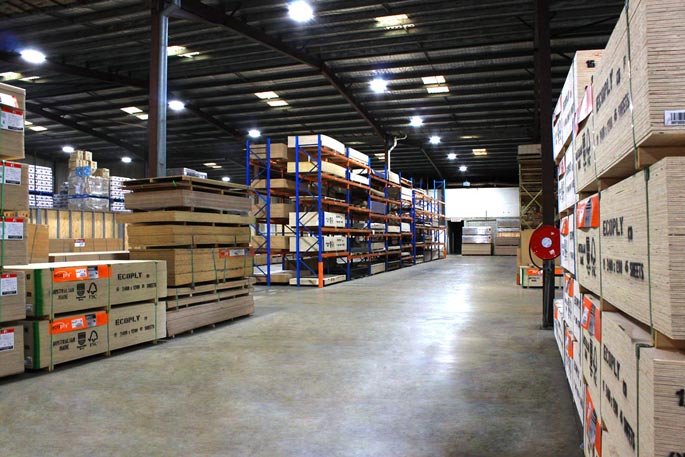 The MDF plywood we offer at FA Mitchell is sourced from accredited plantation forests in Australia.
We aim to comply with stringent Australian standards, and our products are always audited by Engineered Wood Products Association of Australasia (EWPAA) before they are sold.
With overseas manufacturers and distributors, the quality will always be a question mark. Often the product reaches Australia only after passing through various intermediary locations. It is hard to know whether the ply is manufactured in Bali or Indonesia and then distributed via Singapore.
Many overseas suppliers don't even offer zero formaldehyde emission rating, which is a very crucial quality parameter!
We supply medium density fibreboard throughout Australia from our Sydney warehouse and wood cutting facility. Use the details below to get in touch with the MDF experts at FA Mitchell to ensure you get the right product at the right price.
Get a Quote for Your MDF Sheets
For personalised advice and a quote for your project, please call (02) 9646 2777 or fill out the form below, and we will respond to you as soon as possible.