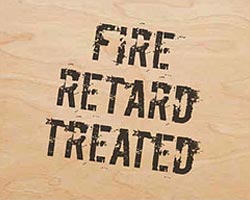 Let's face it: a fire can happen anytime, anywhere, for one reason or another. While there's not much you can do to stop a raging fire other than to call the fire department, you can at least do something proactive beforehand to make your building less prone to being totally razed before firefighters arrive to put the blaze out. With the effort we exert in the fire retarding of plywood arena, we at FA Mitchell can offer you such an option.
Fire retarding of plywood with chemicals
The fire retardant plywood suppliers that plywood offer is treated with chemicals that have special fire resisting properties, thus making our products less vulnerable to burning in case of a fire. While our fire retardant plywood remains a combustible material, it offers a distinctly lower flame-spread rate than the untreated plywood used in building construction. Because of the slowed-down burning process, a fire can be caught in its earlier stage, which will keep fire damage to the building to a minimum. It also gives occupants of the burning structure enough time to safely evacuate the building.
Aside from having a lower flame-spread rate, our fire retardant plywood also has lower smoke generation as well as a lesser tendency to spark and ignite.
The popularity of fire retardant plywood is such that it is now being used for more than just the walls and ceilings of homes and offices to ensure that the risk and spread of fire is drastically reduced. It is now commonly used for the interior woodwork of public theatres and halls, the kitchens of big restaurants, car interiors or even in the railway compartments of trains.
We offer plywood sheets for sale and our fire retarding of plywood service throughout Australia from our Sydney warehouse and wood cutting facility. Use the details below to get in touch with the fire retardancy experts at FA Mitchell to ensure you get the right service at the right price.