Plywood is a versatile product made of resin-coated veneer pieces pressed together. It can be tailored to suit an extensive range of structural, interior and exterior applications.
In order to choose the right plywood for a job, you have to know the features and strengths of the different types of plywood.
Plywood Quality Grading
Plywood panels are given two alphabetical ratings that range from A to D. The first letter rates the quality of the front facing side of the panel. The second letter rates the quality of the back side of the panel. A single panel can have an "A" face and a "D" back.
A Grade Plywood
Plywood with an A grading is considered high-quality plywood.
A-grade plywood has few imperfections and is free of small knots and defects.
B Grade Plywood
B-grade plywood is the second highest grade given to plywood material.
This type of plywood has small knots or nicks.
C and D Graded Plywood
The more economical types of plywood are those with the C and D grading.
Plywood sheets with this grade contain many knotholes, voids, and repairs, and are usually left as is.
C and D grade plywood is an excellent choice for projects where a cover like an MDF wood sheet that goes over it.
What type of plywood to use for home furniture?
For projects that never see the light of day like cabinets and furniture, there's a wide range of high-grade plywoods to choose from.
Most cabinets use ¼ inch plywood, which is usually less expensive and makes the finished piece somewhat lighter. The longer the unit, the thicker the plywood requirement to prevent mid-shelf sagging.
What type of plywood is used for durable flooring?
Interior plywood makes for a very durable flooring. It usually serves as the smooth surface that serves as the underlayment where the finished flooring sits.
Interior plywood is a good subflooring choice for rooms that are not exposed to water and moisture like bedrooms and hallways.
A floor might have three or four layers: the concrete foundation, a plywood substrate, a plywood underlayment, and the surface flooring material.
What type of plywood to use for weather exposure?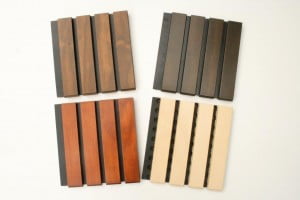 Exterior plywood is best used anywhere where weather exposure is a concern, like exterior walls. Although it can also have interior applications such as in kitchens, bathrooms, and basements.
The plywood used to sheath house frames actually makes the structure stronger by connecting all the studs together. On top of that, structures with siding only connected to the plywood sheathing require a thicker plywood.
What type of plywood to use for water-resistance?
If you ever wondered "what is the strongest plywood?" The answer is Marine plywood. It is the strongest and toughest of all plywood on the market.
It is bonded with high-quality glues to make the plies structurally solid and resistant to moisture. Marine plywood is usually only available in A-A grade, which means you can use either side to show on the surface.
Because of its strength and water-resistant properties, marine plywood is a very good choice for bathrooms, basements, and as a substrate material for laying hardwood engineered flooring and tiles.
What type of plywood to use for high-traffic areas?
Structural plywood is extra strong and second only to Marine plywood in strength and durability. This type of plywood works well in high-traffic areas such as entryways and upstairs hallways. It has a rough texture and is usually available in grades C-D or D-D.
Wholesale Supplier of High-Quality Plywood and Other Wood Products in Sydney and NSW
FA Mitchell will help you understand the different plywood sizes and grades as well as other types of wood materials such as MDF plywood.
We supply engineered plywood, produced by EWPAA audited mills according to Australian Standard AS/NZS 2269, to Sydney and NSW.
We will walk you through your options and give you advice on the best plywood to use for your commercial or construction project.
Call us now for a consultation.