Handling large plywood sheets presents a bit of a challenge beyond the general safety procedures involved in any woodworking project mostly due to their size.
If you're even considering transporting it and cutting it down into small pieces, basically doing everything yourself, you are in for a wild ride.
Find out how to handle plywood safely and avoid accidents.
Safe Handling Of A Piece of Plywood
What makes plywood such a great material is its size. Unfortunately, that quality also poses one of its greatest challenges, which is the safe handling of it.
A full-size sheet of ¾" plywood weighs about 55 pounds. Some varieties of which weigh an extra 10 or 15 pounds.
You might think to yourself that 55 pounds are doable. The thing with plywood is it is 55 pounds of a material with an awkwardly large and unwieldy size.
To handle plywood sheets safely and effectively, you are going to need manpower and other methods like a rolling cart and secure fasteners.
An far better idea would be to have the full-size plywood cut upon purchasing and have them delivered to you.
It's worth paying a delivery charge to have the supplier bring the plywood sheets right to your site.
This way, there's less risk of having the veneer damaged by improper handling.
Cutting Plywood Yourself Poses A Serious Risk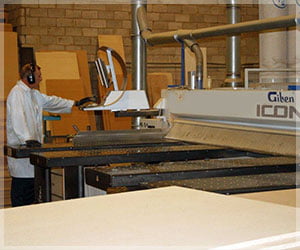 Sawing a large material such as a sheet of plywood by yourself can be dangerous. It's best to pay for a professional plywood cutting service.
It's not just a matter of having a saw and cutting the plywood into smaller plywood sheets. You are going to need tools and equipment like safety goggles and respirators.
Does your saw for cutting wood have the proper blade? Remember there are many different types of saws for different types of wood.
We don't recommend cutting plywood using a table saw. It is very dangerous and serious injuries can ensue.
There always has to be another person with you and assisting you. That is why we use our professional personnel and specialised equipment.
You Are Going To Need Maximum Protection
You are going to need eye protection to keep dust and debris from your eyes, as well as lung protection. Cutting plywood produces a whole lot of sawdust. You have to capture it properly. Inhaling sawdust can cause mild to severe respiratory issues.
You can employ the use of a dust remediation system for one or at least wear a dust mask.
Safe Plywood Handling Practices
Before you take on something of this size, it's best to consult plywood experts or plywood suppliers in your area. You may think these safety implements are unnecessary. But as always, it is better safe than sorry. One accident can derail an entire project or business.
Apart from supplying plywood cut to size, FA Mitchell provides relevant expert services to assist you with your projects.
We help smooth out your project by cutting your plywood, particle boards and MDF wood panels to size and deliver it to your door.
The knowledgeable staff at FA Mitchell have many decades of experience on how to handle plywood safely. Use our expertise and advice and save you from paying too much and for substandard products.
Call us now so we can help you Australia-wide.